Gutter Downspout Extensions
Direct Water Away From Your Foundation With One Easy Installation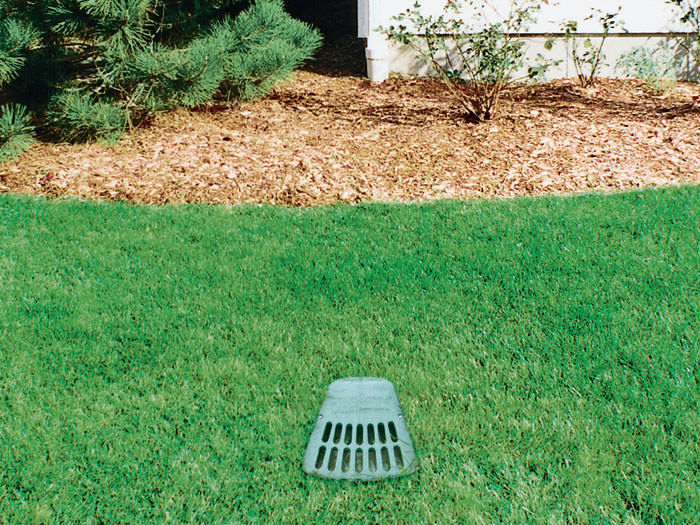 What It Does:
LawnScape™ is a pipe buried from the downspout to a special LawnScape™ outlet that lets the water out onto the surface while camouflaging the end of the pipe. The lid comes off for easy cleaning. LawnScape™ is best used for downspout extensions over 8' long.
Installation Time:
Installation of LawnScape™ takes less than an hour. We remove sections of your lawn carefully and replace them after installation to ensure your yard retains its appearance after we're done.
Why Extend Your Gutter Downspouts?
When your gutters discharge water next to your foundation, much of it can seep directly into the soil around your home. This can significantly add to basement leaking, and it can even contribute to foundation issues. By installing any combination of our downspout extensions on your gutters, this problem can be averted.
To add the greatest beauty and appeal to your landscaping, consider installing our LawnScape™ Outlet as an underground extension to your downspouts. Its green color blends in with your lawn and lawn mower traffic won't hurt it. A buried pipe directs water away from your home and onto the surface through the special LawnScape™ outlet. The lid comes off easy for cleaning.
All of our gutter and downspout products are a great compliment to your existing basement waterproofing system!
Call us for a Free Estimate today!
We service Bristol, Soddy Daisy, Oak Ridge, Maryville, Powell, La Fayette, Seymour and many nearby areas in Tennessee.
Looking for a price? Get a no cost, no obligation free estimate.