Concrete Pool Deck Repair & Leveling in Knoxville Area
Raise and level your sunken concrete pool deck with expert concrete repair services
Has the concrete surrounding your pool dipped or settled, creating an uneven surface and dangerous trip hazard? Is there a protruding concrete edge where one section of the slab has settled below another? Master Service Companies can raise your concrete pool deck back to its original level without the mess and expense of replacing the concrete. Most pool deck leveling jobs can be completed in as little as one day!
Pool Deck Leveling
The concrete surrounding your in-ground pool is prone to settling because of the pool construction process. The backfill soil that's added around the pool excavation will not be as dense or well-compacted as the undisturbed soil farther from the pool. When a heavy concrete slab is poured around the pool, loose soil will often compress under the slab's weight, causing sections of the concrete to sink or settle.
Instead of using ineffective and invasive traditional methods like mudjacking, Master Service Companies fills voids beneath your concrete pool deck which caused it to sink in the first place. We use a high strength polymer foam that is installed by drilling small holes in the surface and injecting the foam underneath. The foam lifts and levels the surface as it expands, curing in about 30 minutes to provide a stronger, more accurate, and more durable finish than mudjacking. When the slab is level, the access holes are patched to match your surrounding concrete.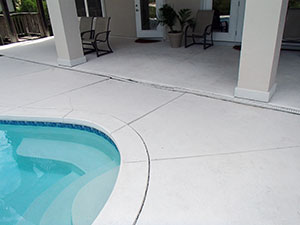 This concrete pool deck is sinking in many places due to soil settlement underneath.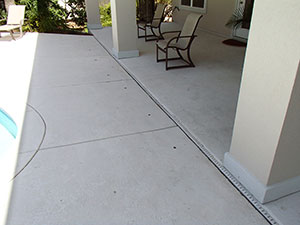 We were able to make the entire pool deck seamless and level using our proven-to-last concrete leveling methods.
Advantages of pool deck raising
Costs less than concrete replacement
Longer lasting solution than concrete resurfacing
Ready for immediate use after work is completed
Doesn't disturb surrounding landscaping
Preserves original appearance of concrete
Typically completed in one day
Request an on-site inspection and free estimate for concrete pool repair
If you're looking for a fast, effective way to eliminate the trip hazard around your in-ground pool, slab jacking might be the right solution for you. Before we begin your pool deck repair project, a Master Service Companies Foundation Specialist will inspect your pool deck to make sure there are no serious structural problems. We will then discuss the best repair method for your concrete and provide you with a free estimate for your pool deck leveling project.
We offer concrete leveling services in Knoxville, Chattanooga, Johnson City, nearby Kingsport, Cleveland, Hixson, Dalton, Ooltewah, Cookeville, Morristown and many surrounding areas.
Looking for a price? Get a no cost, no obligation free estimate.