Crawl Space Repair & Encapsulation Contractor Serving Johnson City, Chattanooga, Knoxville & Surrounding Areas
We work in Knoxville, Chattanooga, Johnson City & nearby
One of the largest issue with having a moldy or rotting crawl space is that the problem can spread to other areas of your home. That is the bad news.
The good news is that Master Service Companies is your trusted expert for dealing with crawl space problems. We will come and inspect your home for free. After identifying the issue and explaining the work that is needed we give a no-obligation free estimate.
We travel out and work in homes of Knoxville, Chattanooga, Johnson City, Kingsport, Cleveland, Hixson, Dalton, Ooltewah, Cookeville, Morristown and surrounding areas. Give us a call today at 1-844-268-8417 to get started.
Symptoms of a Crawl Space Problem
Drywall Cracks in the Interior
Uneven Floors
Foul Odors in the Home
Heightened Allergies or Asthma Symptoms
For years now we have been fixing and encapsulating crawl spaces throughout eastern Tennessee. Whatever the problem is in your crawl space we have the experience and the products needed to provide the right solution.
The goal of our work is to avoid any unnecessary and costly work while creating a healthier livings space. You save money up front with our honest work and over the long term with a more energy-efficient home. As an additional benefit at the end of our project, you will have additional storage space in your home.
Check Out Our Crawl Space Videos
Crawlspace Transformation in Knoxville, TN:...
This time-lapse video shows the process of transforming a wet, moldy and dirty crawl space into a dry,... Watch Video »
Certified Crawl Space Contractors in Tennessee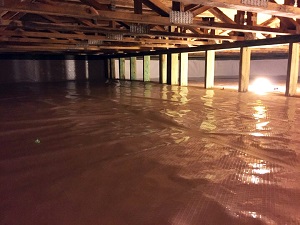 All-size solutions. The CleanSpace® Crawl Space Encapsulation System can provide moisture control for any size crawl space.
Master Service Companies is a member of the Basement Systems international network of waterproofing contractors. Since 1987 Basement Systems has been developing, patenting and providing products to members of this network.
As part of this elite network, we have access to these patented products which we install in your home with a warranty. We also receive regular training on the industry to make sure we are always ahead of our competitors. With access to over 30 patented products, backed warranties, and highly trained technicians we are the easy choice for your home project.
Give us a call 1-844-268-8417 to receive your free crawl space repair quote. The quote includes an on-site inspection, answers to your questions and completely written estimate.
At Master Service Companies we use and recommend products developed by the Basement Systems® International network of waterproofing contractors. In business since 1987, Basement Systems® operates a full Research and Development department, constantly searching the industry for the best, most proven products for lasting crawl space solutions.
We will give you a free copy of Crawl Space Science, an 88-page book on crawl space repair. This way you can better understand the problem and solutions we will present during our estimate. Let's get started today.
Looking for a price? Get a no cost, no obligation free estimate.