Mold Concerns in Knoxville, Chattanooga, Johnson City, Johnson City, Kingsport, and Surrounding Areas in TN
Create a Healthy Environment in Your Home
Mold has always been a part of our environment, but in recent years, the mere thought of mold inside someone's house has begun to elicit panic. New scientific knowledge and media attention has increased the awareness of homeowners, workers, landlords, facility managers, doctors, attorneys, and owners of companies about the danger of mold growing in a building.
Mold growing inside a house can have a disastrous impact on the health of everyone living there, as it can produce allergens, irritants and even toxins. The result of mold in the air can range from allergies to infections to toxic reactions. More common reactions include:
Watery eyes
Runny nose
Sneezing
Coughing
Wheezing
Headache
Fatigue
Difficulty breathing
The Environmental Protection Agency reports that mold grows when mold spores land on wet surfaces. Though it is impossible to get rid of all mold that is constantly floating through the air in house dust, it will not grow if moisture is not present and is not as dangerous to a person's health in dust form.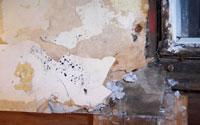 Mold can begin to grow in a building that has a leak problem, through condensation on windows, or as the result of a flood. Mold can also grow on drywall that has become wet from a basement flood. Other organic materials such as wood can grow mold over time in a damp place like a basement, so it is important to eliminate water problems in your home permanently or the mold will continue to come back over time. If you find moisture in your home, dry it immediately.
Keep your home safe, healthy and free of dangerous mold. We provide mold inspections in Knoxville, Chattanooga, Johnson City, Kingsport, Cleveland, Hixson, Dalton, Ooltewah, Cookeville, Morristown, Oak Ridge, Maryville, Soddy Daisy, Bristol, Powell, Seymour, La Fayette, and the surrounding areas in Tennessee. Call today and sign up for your free mold inspection!
Looking for a price? Get a no cost, no obligation free estimate.