Bowing & Buckling Foundation Wall Repair Near Knoxville, Chattanooga, Johnson City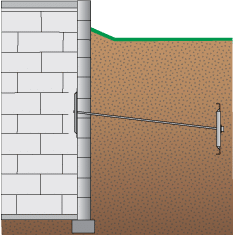 Wall anchors can repair many bowing wall problems, including those that cause cracks, inward bulging and sliding.
Soil anchors are placed in the ground outside the home. Steel rods attached to soil anchors extend through the foundation wall and wall plates.
Wall plates distribute clamping pressure. Tightening nuts on the threaded ends of the rods stabilize the wall for a permanent solution.
Identifying & repairing issues related to foundation wall failure
The problem:
Your foundation walls are bowing, buckling or are showing signs of inward movement.
Telltale signs:
Horizontal or stair-step cracking along the foundation walls
Diagonal cracking at corners of poured concrete foundation walls
Inward bowing or bulging along the walls
Walls sliding inwards on the bottom
Walls leaning in at the top
Wet, clay soils around the home coupled with damaged walls
Expansive clay soils present around the structure
Free Foundation Repair Quote
Get a FREE Quote!
We can straighten your bowing, buckling foundation walls! Our solutions are warrantied, and most can be done in a day! Call us for a free foundation wall repair quote today! We serve Chattanooga, Knoxville, Johnson City, and many nearby areas in Tennessee.
Signs of bowing foundation walls
Foundation walls move inward primarily due to expansive soils and hydrostatic pressure on the walls from outside. However, foundation walls may also crack due to many other outside causes, including foundation settlement. Our foundation experts will accurately identify the cause of your home's foundation problems.
Below are images of several foundations that are showing damage from hydrostatic pressure and expansive soils outside the structure.
(Click each photo to enlarge.)
What causes cracked & bowing foundation walls?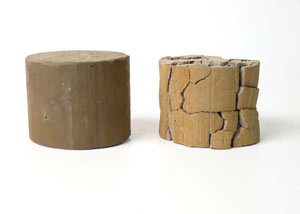 How does moisture affect clay soils?
These two clay samples started out exactly the same in size, weight, and composition. The sample on the right was allowed to dry out, while the one on the left we kept moist.
If a small sample of clay can gain this much volume when it gets wet, just imagine how dramatic the changes are in the soil around your home!
The soils around your home can put enormous pressure on foundation walls. The amount of pressure they exert depends on four factors:
The type of soil around the foundation
The amount of moisture in the soil
How far underground the foundation is
The temperature conditions
There's constant pressure on your foundation walls from the outside, but the only thing holding up your foundation wall is the wall itself. Hydrostatic pressure, expansive clay soil, and frost can all exert enough pressure to cause walls to lean or even collapse.
Gutters and downspouts can also contribute significantly to foundation problems by allowing large volumes of water to collect in the soil around your structure.
If roof runoff is not directed away from your foundation, the soil around the foundation will become heavier and more expansive as it's saturated with water.
If you would like a free foundation wall repair quote for your home, call or e-mail us today!
What NOT to do
A foundation repair is a big job -- something you definitely only want to do once! When you're repairing your foundation, beware of expensive options that will not actually fix your problem -- and watch out for quick solutions that just don't work.
Total foundation replacement:
To undertake a job like this, you have to excavate the entire perimeter of your foundation -- including gardens, shrubbery, sidewalks, and other landscaping.
Next, the house is jacked up, and the floor slab and foundation walls are removed. Finally, the foundation is rebuilt, the house is repositioned and the soil is replaced.
This solution is extremely disruptive, expensive, and time-consuming. What's worse, it's not really addressing the issue that caused the damage in the first place!
Your foundation isn't the problem -- the soil is! When you're done building that brand new foundation, you can count on the soil to press just as hard on the new walls. This will cause them to be damaged -- just like it did to the ones that preceded them.
If you're going to invest money in repairing your foundation, choose the solution that is not disruptive and will be warrantied for 25 years.
Looking for foundation wall repair experts in Tennessee?
At Master Service Companies, we're proud to provide warrantied solutions that will permanently solve issues with bowing, buckling foundation walls.
We provide free, no-obligation foundation wall repair estimates to homeowners throughout our Tennessee service area. Each estimate is made in person, on-site, and is presented in writing.
Our service area includes Johnson City, Chattanooga, Knoxville, and nearby areas such as Cleveland, Kingsport, Dalton, Hixson, Cookeville, Morristown, Ooltewah. Call or e-mail us today!
Looking for a price? Get a no cost, no obligation free estimate.