Crawl Space Structural Support Jacks Near Knoxville, Chattanooga, Johnson City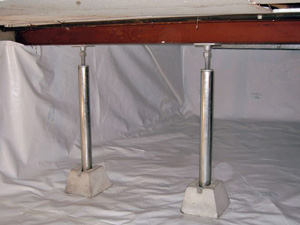 SmartJack® Benefits
Supports loads of more than 60,000lbs
Galvanized for corrosion resistance
Installs in areas with limited access
25-year warranty against manufacturing defects and performance warranty from MasterDry
Anchored to pre-cast concrete footings
Adjustable post height
MasterDry uses the SmartJack® system of crawl space joist repair posts to provide immediate support for sagging and undersized beams, thereby restoring stability and straightness to sagging floor joists in a crawl space.
Once installed, SmartJack® support post heights can be adjusted over time to correct problems such as sloping and springy floors, interior wall cracks, and out-of-level door frames.
Sagging Crawl Space Joist Repair
To be stable, strong and level, the floor above a crawl space requires solid mid-span support that's usually provided by a post-and-beam assembly.
But beams are often undersized, and many contractors use wooden posts that can rot, shift and settle over time. When this happens, floor joists sag and other structural problems occur.
The SmartJack® system provides a permanent solution to these problems.
The SmartJack® system is also compatible with crawl space encapsulation systems, making it a good choice for homeowners wishing to eliminate moisture problems and improve home energy efficiency, while also solving structural problems.
Restore the Structural Integrity of your Crawl Space
A MasterDry foundation specialist will inspect your home's crawl space and framing. We'll recommend the proper placement and quantity of support posts and propose a customized solution for your sagging beams and floors.
Installation of the SmartJack® system can be done at anytime during the year and is generally completed in as little as one day with little disruption to your home. Find out more about our other foundation repair products to get your home structurally safe and sound!
These support posts and crawl space supports are available throughout Eastern Tennessee, including Kingsport, Tri-Cities, Greater Knoxville and nearby areas.
Installing the SmartJack®
Installing the SmartJack® is a fast process that will not disrupt your home or landscaping. During our crawl space repair, your installers will follow these five steps:
Preparing For Installation
Before the installation, a system design specialist will meet with you to design a crawl space support system that will effectively return your home to structural stability. Our specialist will also be able to explain our system and answer any questions you may have about your crawl space repair.
The location for each crawl space support jack will be mapped out for your installers when they arrive, ensuring a proper installation.
At the beginning of the installation, our team of in-house crawl space repair contractors will excavate a 2' square, 2' deep hole at each SmartJack® location. Each of these holes will be prepared with engineered fill consisting of tightly compacted crushed stone.
---
Placing the Pre-Cast Footing
A pre-cast concrete base (or footing) is placed on top of the engineered fill and carefully leveled.
The footing serves as a stable base for the steel jack post, keeping it vertical and distributing the weight bearing on the post across a broad area of soil. The engineered fill base underneath the footing provides solid support that won't shift, settle or be affected by soil moisture. Some building codes may require a poured concrete base rather than engineered fill.
By the time the weight is distributed through the pre-cast base and the fill, the bearing stresses have dissipated to approximately 10% of the stresses at the top of the post. Even if you have weak supporting soils, you can be assured that the weight of the building will not exceed their bearing capacity.
---
Cutting the Jack Posts to Length
Once new bases have been installed, measurements are made for the steel crawl space jack posts, and the posts are cut to length.
The steel tube used in each SmartJack® is manufactured with a triple-layer, in-line galvanized coating. The triple-layer coating process includes:
A uniform hot-dip zinc galvanizing layer
An intermediate conversion coating enhances corrosion resistance
A clear, organic top coating to further enhance appearance and durability.
Additionally, the inside of the pier tube also has a zinc-rich coating.
The remaining steel components of the Smart Jack™ come standard as zinc-plated in accordance with ASTM B633, "Standard Specification for Electrodeposited Coatings of Zinc on Iron and Steel".
Once the SmartJack® has been installed in your home, you can rest assured that you've invested in a high-quality, permanent solution for your crawl space issue.
---
Assembling & Tightening
Each crawl space jack post is assembled in your crawl space.
The top of the crawl space jack is mounted against the girder, and the installation is carefully plumbed.
In cases where existing girders are undersized or damaged by rot, a new sister girder may be installed alongside the original in order to strengthen and reinforce the structure.
Each SmartJack® is then tightened in an attempt to lift the floor back to its original position.
In many cases, your contractors will be able to straighten and level floors, close cracks in walls, and halt future downward movement.
The jacks will continue to be adjustable for future tightening, should you need it.
Looking for a price? Get a no cost, no obligation free estimate.