I-Beam Wall Braces and Power Brace Brackets Near Knoxville, Chattanooga, Johnson City
An Inexpensive Solution to Stabilize Your Foundation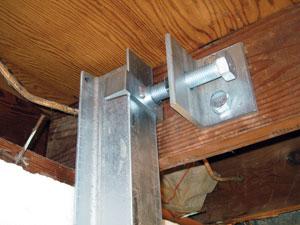 Bowed basement walls are secured and reinforced without disturbance to your home, landscaping or surrounding property.
Cracks across a foundation wall are a cause for concern. Bowed or bulging walls are more worrisome because wall failure can follow. One solution we offer to repair cracked or bowing foundation walls in Tennessee is a bracing system.
MasterDry's I-Beam Wall Braces and Power Brace brackets are a viable alternative solution to repair bowed walls. They are typically used to stabilize walls when it's not possible to use wall anchors due to soil conditions or property line restrictions.
Like wall anchors, MasterDry's steel I-Beam wall braces are an inexpensive alternative to completely replacing damaged walls.
One of our foundation specialists will inspect your home including foundation walls and surrounding property. We'll recommend the proper placement and number of I-Beams to deliver structural support to your wall.
How the brace and bracket system works
At the top and bottom of each I-beam, a Power Brace Bracket is installed.
The bottom brackets are fastened to the concrete floor of your basement with concrete anchors.
Top brackets are bolted to floor joists.
Consistent pressure is then exerted on the beam by turning the brackets' heavy-duty adjustment-bolts.
Over a period of time, your wall may be moved towards its original position.
Find out if a wall brace is right for your Tennessee home!
A MasterDry foundation specialist will inspect your property and design a customized solution for your damaged foundation walls. Installation of MasterDry I-Beam Wall Braces is generally completed in as little as one day, often little disruption to your home or landscape.
Both the I-Beam Wall Brace and Power Brace Brackets are available for installation, as well as many of our foundation repair products, throughout Eastern Tennessee, including Kingsport, Tri-Cities, Greater Knoxville and nearby areas.
Looking for a price? Get a no cost, no obligation free estimate.