Concrete Leveling with Slab Jacking & Piers
Slab jacking may be used to raise sunken sections of concrete walks and other structures to their original positions.
Sunken concrete is both unsightly and hazardous. MasterDry can lift your sunken concrete to its original level -- or close to it. We have the experience to raise everything from a sidewalk to a slab floor.
Slab Jacking for smaller jobs
MasterDry uses two methods for raising concrete. For smaller structures, such as a sidewalk or patio, slab jacking (also called mudjacking) is typically used. Precise holes are drilled into your slab. Then a specialized mortar-like grout or "mud" is pumped, under pressure, to raise and level your slab. The holes are filled with concrete and troweled smooth. Most jobs can be completed in one day.
MasterDry slab jacking begins with an inspection of your sunken concrete. We identify the voids beneath your concrete slab and verify that there are no deeper structural issues at play.
Advantages:
Less than the cost of replacement
Sustainability
Preserves original appearance
Does not disturb landscaping
Completed in one day
Ready for immediate use
Transferable lifetime performance warranty
Applications:
Driveways
Sidewalks
Basement floors
Porches and stoops
Garage floors
Patios
Concrete steps
Pool decks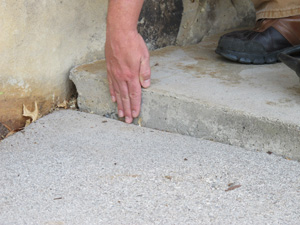 Sunken concrete slabs may due to soil compaction, erosion, freeze-thaw cycles.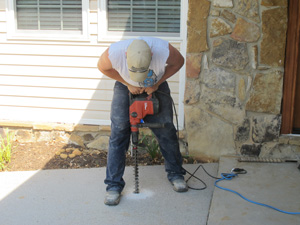 A small hole is bored in the affected concrete slab where the technician wants to be able to apply upward pressure.
A concrete-like grout is pumped into the hole at high pressure, lifting the slab section to a level position.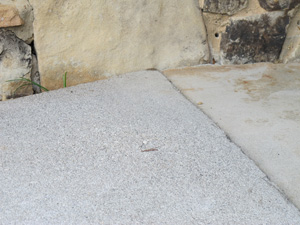 When the slab is level, the hole is filled with concrete and finished to match the surrounding concrete.
Slab piers for big jobs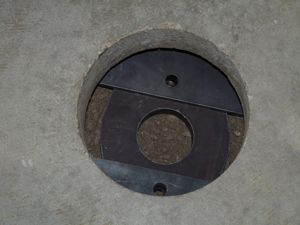 A slab bracket is inserted through the slab prior to driving the slab pier. It is then attached to a hydraulic jack and used to raise the slab.
MasterDry uses slab piers to correct large sections of sunken concrete slab. Holes for piers are bored throughout the settlement area. A slab bracket is inserted inside each hole and expanded so it bears against the underside of the slab. Then the piers are driven through the brackets into the stable soils and bedrock deep beneath your home. Hydraulic jacks are used to raise the brackets in concert. Once the slab reaches the appropriate elevation, the holes are filled and troweled smooth.
A MasterDry Foundation Specialist will inspect your home's foundation and will recommend the proper piers for your property as well as the number of piers necessary to fully support your home. MasterDry Slab Piers cannot be seen after installation, and our project team's goal is to provide complete installation with little to no disruption to your home or landscape.
Looking for a price? Get a no cost, no obligation free estimate.