Restoring Damaged & Failing Foundations Near Knoxville, Chattanooga, Johnson City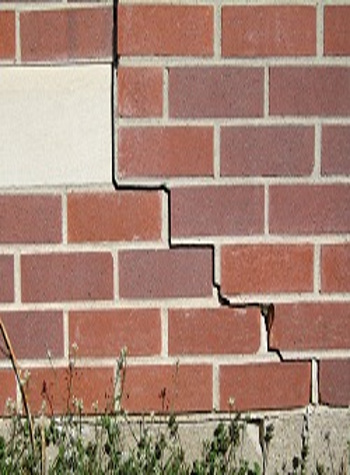 When foundations begin to fail, the damage extends well beyond cracked basement walls and slabs. Exterior and interior walls crack, too. Floors become uneven and may sag or bounce. Exteriors, such as brick or stucco siding, crack. Doors and windows are difficult to operate. If you try to sell your home, you'll be in for an even bigger shock. Its value will have sunk a lot farther than your foundation.
All homes, whether new or old, settle. While most homes are designed to settle evenly across the entire structure, uneven settlement may cause damage to several areas of your home.
Signs of Foundation Damage
Signs of foundation settlement or damage include:
Cracked brick or masonry
Uneven, sloping floors
Windows and doors are difficult to operate
Cracked floors and gaps at baseboards
Tilting chimney or gaps at flashing
It's wise to be worried about signs of foundation settlement or damage. Unchecked, foundation damage gets worse over time. The eventual repairs become more expensive. Worst of all, your property value plummets.
If you suspect that your foundation as begun to settle, contact MasterDry as soon as possible. The problem will only worsen over time. We can stabilize your foundation and begin to restore it to its original elevation.
Our solutions typically involve installing piers (include installing push piers or helical piers, to provide the support your foundation requires.
Our piers have many advantages over concrete-pressed piles and drilled concrete piers – and is much less disruptive and expensive than jacking up your house to remove and replace its foundation.
Expert Piering Techniques to Restore and Repair Damaged Foundations
MasterDry uses either push piers or helical piers to correct most house settling problems. With push piers, holes are dug to the footing under the settled areas and steel brackets are attached to them. The push piers are then driven deep into the ground to load-bearing soil using hydraulic force. Finally, a synchronized lift on all piers ensures all areas of your home are lifted and completely leveled as weight is transferred to more competent soils.
Helical piers, which resemble large screws, are used in a slightly different way. First, your foundation footing is exposed and prepared for helical pier brackets. Then the helical piers are mechanically driven until monitoring shows the torque, or resistance, is sufficient to bear the load of the house. Brackets are then installed and carefully attached to your footing. Your home's weight is then transferred from unstable soils to the piers. Then, as with push piers, you have the opportunity to lift the sunken part of the structure a level position. Once the house has been leveled, any perimeter excavation is backfilled and landscaping is re-established.
MasterDry provides foundation stabilization systems that are designed to put your home back on a safe, solid foundation. We'll inspect your property and the condition of your building structure. MasterDry will then recommend the appropriate settlement repair solution to transfer the weight of your home away from unstable soils to secure, load-bearing soil and bedrock far beneath your home.
MasterDry serves Eastern Tennessee, including Chattanooga, Knoxville, Johnson City, Hixson, Cleveland, Kingsport, Ooltewah, Cookeville, Morristown, Dalton, Oak Ridge, Maryville, Soddy Daisy, Bristol, Powell, Seymour, La Fayette and many cities nearby.
Looking for a price? Get a no cost, no obligation free estimate.