Straightening Cracked and Bowed Basement Walls Near Knoxville, Chattanooga, Johnson City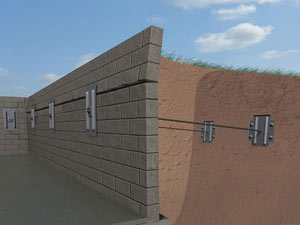 Anchors counteract soil pressure. A wall anchor consists of two steel pressure plates that are connected by a strong steel rod. With the "outboard" pressure plate anchored in the soil, the interior plate can exert pressure to straighten and stabilize a damaged foundation wall. This clamping action occurs when a technician tightens a nut on the threaded end of the rod.
MasterDry is your first call for straightening bowed or tilting foundation walls. Foundation walls are designed to support pressure exerted vertically on the wall.
When changing soil conditions, hydrostatic pressure and temperature changes affect the soil surrounding your property, the horizontal pressure exerted on your foundation walls may exceed the wall's capacity. The signs of damaged foundation walls include bowing, tilting at the base and cracks in brick veneer.
MasterDry Wall Straightening provides homeowners a viable and affordable alternative to completely replacing and rebuilding damaged foundation walls. A MasterDry foundation specialist will inspect your failing foundation walls and identify a permanent solution to the problem.
Secure Your Home with Expert Wall Repair Products
Repairing damaged foundation walls is an essential step in protecting your home and maintaining a safe and secure building structure. Bowed or tilted walls will not return to their original positions on their own; in fact, they will progressively degrade as the soil conditions around your home continue to change throughout the seasons.
MasterDry provides a number of expert and professional foundation repair products and services for residential homes. Your foundation repair specialist will work with you to match the best product with your goals for your property.
Options for Foundation Wall Straightening
Carbon fiber reinforcement

Carbon fiber strapping may be used on cracked basement walls and bowed basement walls. Once adhered to the wall surface, the strapping's tensile strength resists pressure exerted to the wall due to exterior forces, such as excessive moisture or expansive soils. Carbon fiber resists further wall movement but does not restore your wall to its original position.

Plate anchor wall system

Plate anchors are another way to stabilize cracked and bowed basement walls. They may also be used to straighten those walls over time. Long threaded rods are driven through the basement wall to stable soil, where they are connected to an earth plate. At the basement end of the rod, a wall plate is attached. Pressure is gradually put on the inside of the wall by tightening the wall plate over time.

I-beam wall braces

I-beam wall braces are typically used when there is not adequate yard space driving the rods used for the plate anchor wall system. Installed vertically, they are fastened to the concrete slab at the base. At the top of the wall, each I-beam is held against the wall by a bracket that's fastened to a floor joist. Pressure is exerted against the beam by tightening a large adjustment screw. Over time bowed walls may be straightened.
Looking for a price? Get a no cost, no obligation free estimate.