What You Can Expect from MasterDry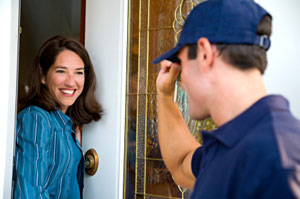 MasterDry's top priority is to take the guesswork out of foundation repair and waterproofing services. We know that when homeowners have complete information and well-defined expectations about repairs and processes, they can make the very best decisions for protecting their home.
Your First Call to MasterDry: When you recognize one or more of the signs of foundation damage, your first call should be to MasterDry. Every homeowner is assisted by a member of our team who specializes in residential services. We will schedule your appointment and inspection with one of our trusted foundation specialists.
MasterDry Visits Your Home: A MasterDry Foundation Specialist will visit your home during your appointment window. All MasterDry team members are in uniform and have a completely professional appearance. You'll also recognize our vehicles with the MasterDry logo.
Your Free Home Inspection and Estimate: Your MasterDry Foundation Specialist will perform a detailed examination of your home including its structural condition and your surrounding property. MasterDry looks beyond the immediate symptoms of foundation damage in order to identify the issues causing the structural shifts. We'll take pictures when necessary and draw visual diagrams to help you understand the factors affecting your home's foundation. MasterDry will present a recommendation for a permanent solution to your home's issues and we'll explain our product selections and repair plan. Our goal is to completely answer your questions throughout each step of the repair process.
Your Repair Schedule: MasterDry's team will contact you to schedule your repairs at a time that best fits your schedule. We'll communicate project timelines and milestones so that you completely understand the repairs to your property.
Project Completion: When MasterDry completes your repair plan, we will walk you through a final inspection and will answer any questions you have about the work completed. We strive to clean our workspace completely and to leave your home's appearance in the condition we found it.
MasterDry Customer Satisfaction Guarantee: MasterDry takes every step possible to ensure your satisfaction with our work. We'll provide you with warranty information (if applicable) and answer questions about the long-term care of your home. Please, tell us how we did! We love to hear your feedback on our website, Facebook page or blog.
Why Choose MasterDry?
Comprehensive Evaluations: Your MasterDry Foundation Specialist will perform a complete inspection of your home and property. You will receive a report, including detailed drawings, about the issues affecting your home and our customized solution for repairs.
Quality Products: MasterDry uses foundation repair products that address the causes of foundation damage. Our products are designed to deliver a permanent solution to your home's structure.
Experienced Crews: An experienced foundation repair crew will complete your foundation repair plans. All members of the crew are MasterDry employees; we do not subcontract to outside or seasonal teams.
Project Ownership and Attention to Detail: At MasterDry, we treat each and every customer home as if it were our very own. As we perform repairs, we take care to be as minimally invasive as possible, and we take steps to restore the original appearance of your property when our work is complete.
Locally Owned And Operated Contractors: MasterDry is locally owned and operated. We are a stable, well-established company that Eastern Tennessee has entrusted with their homes for years.
Free Foundation Repair Estimates: We offer free foundation repair quotes to homeowners in our service area. Our quotes come in writing with a detailed explanation for our repair plan, and there's no obligation! Request a Free Estimate
MasterDry is ready to answer all of your questions so that you completely understand our plan for repairs. Whether you live in Knoxville, Kingsport, Johnson City, Cleveland, Maryville, Richmond, or Morristown, our foundation repair experts will show you how we can repair your home to ensure you're on a safe, solid foundation.
Looking for a price? Get a no cost, no obligation free estimate.