Master Service Companies is delighted to provide Knoxville homeowners with responsible and professional crawl space repair, basement waterproofing, concrete lifting, and foundation repair services. As one of the largest cities in the Appalachian region and doorway to the beautiful Great Smokey Mountains National Park, it's no big secret why our Knoxville customers make every effort to keep their homes in the best condition possible to preserve its lifetime value. We are the professional Basement Systems dealer in Knoxville, TN
Often, waterproofing problems in a basement are the result of leaky pipes, sump pump failure, or flooding during heavy rainfall. Repairing water damage can seeming like a daunting project to tackle, but with help from the professionals at Master Service Companies, you can find a solution that will work best for your home so that you can get back to enjoying it. Some of the major indicators of a basement waterproofing problem are:
Wet or damp basement floor
Leaking or damp basement walls
Pooling or standing water
Crystaline deposit on concrete surfaces
Musty odors
Condensation
Sump pump issues
Leaky basement windows
If you have troubles with you sump pump, then you need the TripleSafe sump pump. The TripleSafe sump pump is uniquely designed with a primary and secondary pump, as well as a third, battery operated backup pump to ensure that even is disaster should strike, your home will still be protected. Trust your home to the professionals at Master Service Companies!
Expert Foundation Repairs in Knoxville, TN
Problems with foundations often stem from broken soil or soil that has been weakened to the point where it can no longer support the weight of the structure. When problems occur, the best thing to do to remedy the problem is to install foundation piers and jack posts which will fix uneven, sloped floors. Additionally, wall anchors and I-Beam wall braces can correct walls that are leaning or bowing inwardly.
Major signs of a foundation problem:
Uneven or sloping floors
Cracks in the floor, interior wall, or exterior wall
Inward bowing walls
Sagging floors over a crawl space
Hard to open windows and doors
Tilting chimneys
Street creep
Professional Crawl Space Encapsulation in Knoxville, TN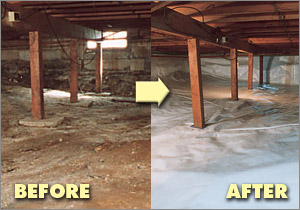 For many homeowners, the crawl space is an area that is too often neglected, leaving it vulnerable to water damage, debris buildup, and mold growth. Not only can these be damaging to the crawl space itself, but significant problems in a crawl space can effect a home's foundations and air quality. At Master Service Companies, we hire only the best specialists to install top-of-the-line materials to turn any dirty, musty crawl space into a clean, energy-efficient space. Some of the indicators of a problem with your crawl space are:
Sagging floors
Condensation
Mold
Wood rot
Foundation cracks
Master Service Companies has the tools and the expertise to get your job done quicker and easier, leaving you with quality, long lasting results. Our knowledgeable staff and trained professional technicians want to work with you to find a solution that will work for you! Call us today for a free estimate!