Crawl Space Repair, Basement Waterproofing, Foundation Repair, Radon Testing and Mitigation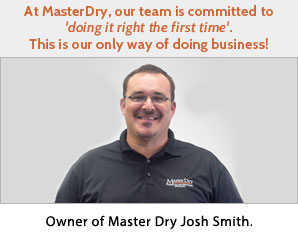 Video Testimonials
Serving Greater Knoxville, and Eastern Tennessee
Master Dry was started in Knoxville, TN in response to the overwhelming problems associated with crawl spaces and the prevalence of mold and humidity.
We have now expanded our services to offer effective solutions for wet, damp, and leaky basements as well as superior foundation repair products for any structural issues your home might be experiencing.
Waterproofing and Structural Solutions
From Knoxville to Johnson City TN, and throughout many cities in Eastern Tennessee we offer effective and reliable services for:
Our products and services offer effective solutions for encapsulating a crawl space, reducing basement dampness to reduce humidity to levels that are not conducive to mold growth, and stabilizing a foundation or basement wall.
Our Services
Basement Waterproofing

Keep moisture and mold away from the basement of your home. We make wet basements a thing of the past!
Foundation Stabilization

Our repairs stop basement walls from bowing, buckling, tilting, and settling – and in many cases reverse the damage.
Basement Dehumidification
We will provide you with an air-dried basement for your house so that you can use it for storage space or living space.
Crawl Space Encapsulation

We at Master Dry provide basement encapsulation services for homeowners in the state of Tennessee.
Radon Mitigation

Reduce the radon levels in your home with our state-of-the-art radon mitigation systems.
Sump Pumps

At MasterDry, we install patented sump pump systems that have been developed by Basement Systems®.
---
Business Integrity is our First Priority
Our goals here at MasterDry are simple:
To provide extraordinary customer service
To offer complete solutions for a healthy home environment
Make "Do it right the first time" our commitment as a team and our only way of doing business
Master Dry as been a member of BBB since October 2007. We are also a member of the London-Laurel County Chamber of Commerce.
Serving Tennessee with Proven and Award-Winning Products
Master Dry services homeowners from Greater Knoxville, to the Tri-Cities area, including Johnson City, Greater Knoxville, Kingsport, Maryville, Morristown, Oak Ridge, Newport, Greeneville, Crossville, Clinton, Sevierville, Elizabethton, Clinton, Athens, Cookeville, Jonsborough and the surrounding areas in Eastern Tennessee.
Looking for a price? Get a no cost, no obligation free estimate.